SQF vs BRC Certification: Which Is Better & Their Differences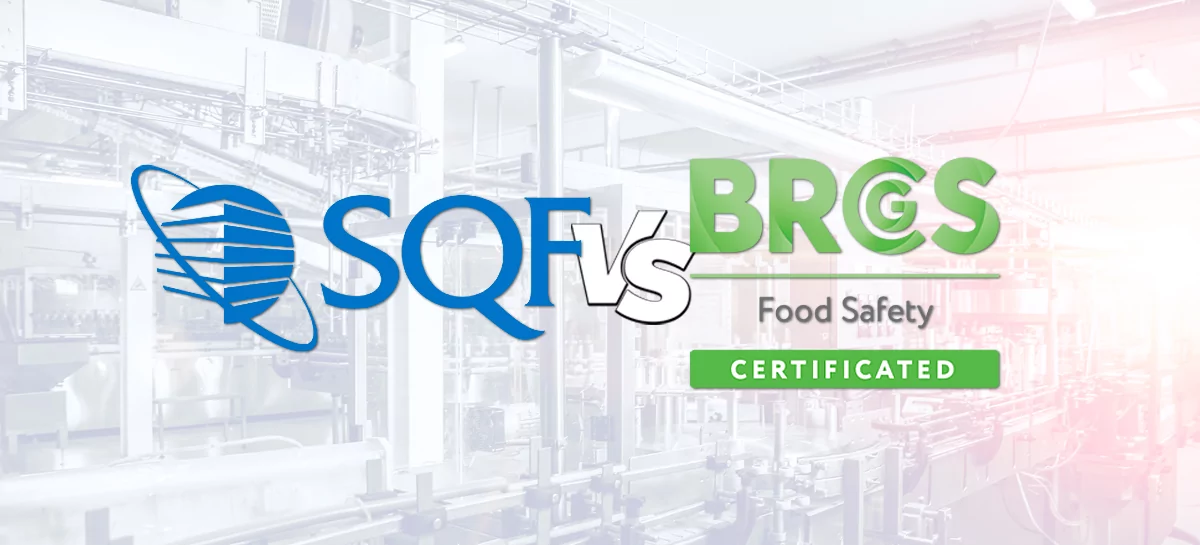 Food safety is more of a concern than ever before.
With food recalls and foodborne illnesses making headlines, it's important for manufacturers to implement an effective food safety management system.
The good news is that there are several food safety certification schemes available to choose from, including SQF and BRC.
So, let's take a closer look at SQF vs BRC to help you determine which one is right for your business.
SQF And BRC Overview
What Is SQF?
SQF stands for "Safe Quality Food" and is a food safety management certification scheme that was created by the SQF Institute.
It provides a systematic approach to the management of food safety and quality and is designed to help manufacturers minimize the risk of foodborne illnesses.
What Is BRC?
BRC stands for British Retail Consortium and is another popular food safety certification scheme that was created by the British Retail Consortium. Like SQF, it helps businesses ensure that their products are safe and of the highest quality.
What Is The Difference Between SQF and BRC?
The main difference between the BRC and SQF is that BRC focuses more on product safety and quality management systems, while SQF focuses on food safety and quality management systems. BRC is more concerned with ensuring quality and consistency, while SQF focuses on preventing contamination and food safety issues.
Both certifications are widely recognized in the food industry and are considered important benchmarks of quality and safety.
But let's look at their differences in more detail.
Certification Standards
While BRC has only one standard, SQF has four different certification levels:
Level 1: Food Safety Fundamentals. Establishes the fundamental requirements for a food safety management system (FSMS) and provides a basic understanding of the food safety key concepts.
Level 2: Certified HACCP-Based Food Safety Plans. Requires a comprehensive HACCP-based food safety plan and ensures that the system is properly implemented and managed.
Level 3: Comprehensive Food Safety and Quality Management System. Requires a comprehensive FSMS that encompasses food safety and quality management systems, regulatory compliance and customer and supplier requirements.
Level 4: Comprehensive Food Safety and Quality Management System – Advanced. Designed for businesses that require the highest level of food safety and quality management. Includes additional certification requirements such as food fraud mitigation, environmental monitoring, and quality management.
Certification Process
SQF audits are conducted by licensed certification bodies, while BRC audits are conducted by accredited third-party certification bodies.
SQF also requires annual unannounced audits for all levels of certification, while BRC only requires unannounced audits at the highest levels of certification.
Certification Cost
SQF certification can be more expensive than BRC certification, especially for small businesses since the cost can vary, depending on the business size and operational complexity.
Incurred costs include consulting fees, audit fees and registration fees, which smaller business might find hard to cover, especially if they're new to the market with little capital.
This makes BRC certification a more attractive option for them. However, SQF certification has certain advantages over BRC, such as a stronger emphasis on food safety culture and a detailed food safety management system, which can help businesses improve their operations.

Which Is Better: SQF or BRC?
So, which is better? SQF or BRC? And, is it even possible to even make this distinction?
We need to put some context around factors to consider when making a choice between the two…
Industry Sector
Different industries have different requirements when it comes to food safety. For example, if you're a manufacturer of canned goods, you may want to consider SQF certification, as it has a more detailed approach to food safety.
On the other hand, if you're a manufacturer of fresh produce, BRC certification may be more suitable.
Business Size
For smaller businesses, BRC certification may be more affordable and less time-consuming than SQF certification. It focuses on product safety and quality management systems, and is often preferred by retailers in the UK and Europe.
In addition, BRC certification is generally more affordable for small businesses to implement and maintain, as it doesn't require the level of documentation and record-keeping that SQF certification does.
On the other hand, SQF certification includes more stringent requirements for documentation, record-keeping and food safety plans. It's often a requirement by large retailers in the US and Canada, and is more commonly used in the international market.
Resources Available
SQF certification is known for being more demanding and rigorous compared to BRC. As a result, organizations seeking SQF certification should be prepared to commit more resources to ensure ongoing compliance.
These resources could include:
Investing in additional staff to manage compliance activities

Upgrading equipment and systems to meet SQF standards

Conducting more frequent product testing and analysis
In contrast, BRC provides a more flexible and scalable certification solution that can be tailored to suit the specific needs of each organization.
This makes it a better choice for smaller businesses or those with limited resources. BRC also offers a range of certification options that can be adapted to suit different industries, such as food safety, packaging, and storage.
Whatever certification you choose, the key is to maintain a strong commitment to food safety and quality, which will help ensure the ongoing success of your organization.
BRC vs SQF Certification:

Which Is Best For Your Food Safety Management System?

Analyzing the BRC vs SQF certification situation depends entirely on your business' needs, so consider these factors when deciding:
Understanding Your Food Safety Needs
Consider the type of products you manufacture, the markets you serve, and the regulatory requirements you must meet.
These factors bring an element of food safety risks that need to be taken into account. For example, some industries, like meat and poultry processing, have higher risks than others.
Compare the requirements, costs, and benefits of each scheme to determine which one best aligns with your business needs. Which one is recognized by your customers and regulators and aligns with your planned food safety management processes?
Looking At The Business Benefits
Certification can provide several business benefits that are highly valuable in today's competitive market:
Improved Customer Confidence: Certification provides assurance to customers that a product or service meets certain standards, building confidence in product quality and safety, which can lead to increased sales and customer loyalty.
Increased Market Opportunities: A certified product or service may be a requirement for doing business with certain clients or in specific markets, especially in regulated industries.
Reduced Risk of Product Recalls: Certification helps to minimize the risk of product recalls by ensuring that products meet all relevant safety and quality standards, saving costs on product recalls, replacing or repairing defective products, potential legal liabilities and reputation damage.
Enhanced Company Reputation: Certification can enhance your reputation by demonstrating your commitment to quality, safety, and sustainability. This can attract and retain customers, generate positive media coverage and enhance your brand.
Becoming Certified
Once you've decided which certification scheme is right for your business, you'll need to engage the body to conduct an audit and certify your business.
This process can take several months, so it's important to plan ahead and ensure that you have the necessary resources and systems in place to meet certification requirements.
No Matter Which You Choose, Our Bulk Bags Can Help
Whether your business has chosen to adhere to British Retail Consortium or Safe Quality Food standards, our food grade bulk bags can aid in maintaining compliance.
They're manufactured to adhere to strict safety standards, and are BRCGS, IFS, and FSSC22000 certified, ensuring that your products remain contaminant-free during storage and transport.
Additionally, our bulk bags are customizable to meet your specific needs from size and thickness to printing options.
No matter which standard you have chosen to follow, our bulk bags can help you meet your regulatory requirements and ensure safe delivery of your products to customers.

Final Thoughts On
SQF vs BRC
Both SQF and BRC are globally recognized food safety and quality management systems that provide a solid foundation to safeguard the food supply chain.
While they have a few differences in their approach, both are designed to mitigate food safety risks, enhance product quality and consistency and meet regulatory and customer requirements.
Therefore, the choice between SQF and BRC depends on various factors such as the organization's size, products portfolio, market demand, and quality and safety objectives.
Ultimately, regardless of the chosen system, it's essential to ensure continuous improvement, effective communication, and stakeholder engagement to achieve sustainable results.