FIBC Bags Manufacturing Process & Material Guide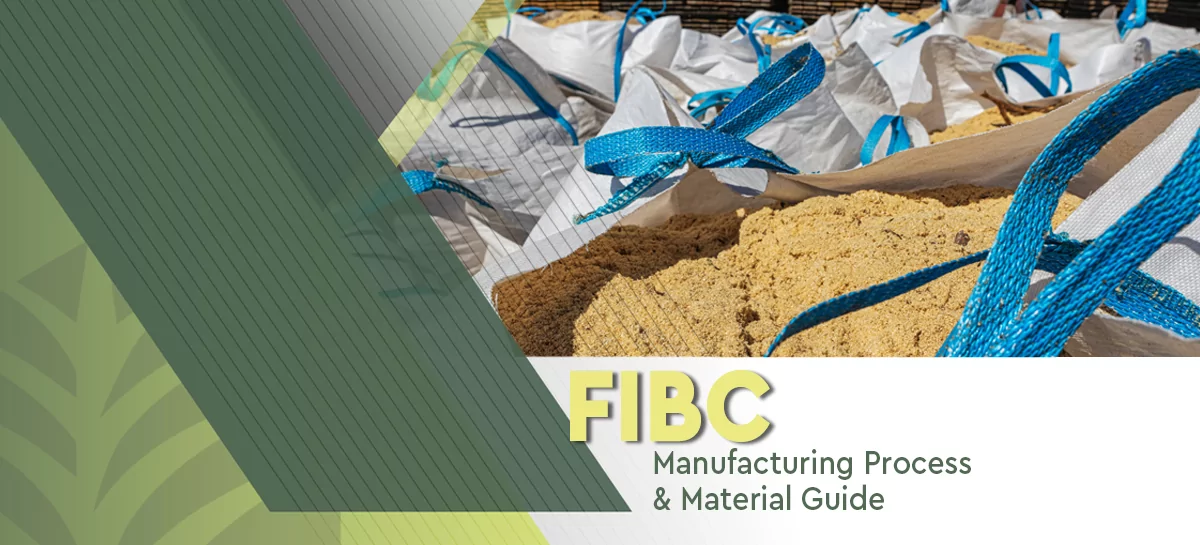 All bulk bags are made the same, right? So, you can go ahead and buy whichever one you like the look of, correct?
Well, that's not the case, and you might not exactly be getting what you expected.
While the FIBC bags manufacturing process is largely consistent across the industry, there is some nuance to specific aspects.
For example, what are bulk bags made of? Is the quality of propylene the same in every type of bulk bag?
Understanding the answers to these types of questions is key to ensuring your needs are met.
FIBC Material: What Are Bulk Bags Made Of?
Bulk bags are made of polypropylene fabric, a strong, durable, and thermoplastic polymer FIBC material that's resistant to moisture, chemicals, and UV radiation. Coatings provide extra protection, and bags feature woven polypropylene lifting loops for easy handling.
There are a number of bulk bag specs that are designed to meet Department of Transport (DOT) requirements for transport, including the:
Thickness of individual threads (denier)

Fabric weight (GSM)

Strength of the yarn and fabric.
From these engineering specs, each bag is specifically designed to pass a number of stress tests, including drop and jerk forces, that could affect the integrity of each bag during transport.
When purchasing an FIBC, the most important bulk bag spec is the bag capacity (or bag size), which can range from 500 to 4,000 pounds when filled.
Also, the styles and types of FIBC bags should be considered when choosing an FIBC to meet your product storage and transport applications:
Within these FIBC bag types, you will find different styles to meet your bagging needs, including rectangular or four-panel bags, duffle top bags, and circular bulk bags. For each bag style, the manner in which they are constructed will be similar, other than the type of material, size, and shape.
If you're unsure which of these bags you need, get in touch with the team here at Palmetto Industries so we can discuss your needs further.

The FIBC Bags Manufacturing Process
The FIBC bags manufacturing process we take is as follows:
Extrusion

Weaving

Vacuuming

Lamination

Printing

Cutting

Sewing

Final Testing
Let's take a look at each of these steps in more detail so you can see exactly how we optimize your product for your needs:
1. Extrusion: Feeding in the FIBC material
The making of a bulk bag begins with the feeding of polypropylene (PP) resin and other additives into an extruder to produce PP tapes that vary in thickness and width.
The melted resin forms PP sheets that are stretched by rollers, then cut.
2. Weaving
The tapes are then wound onto bobbins to start the weaving process which will create the FIBC fabric.
The fabric weaving is performed on special looms to make either circular shaped bags or U-panels for the various other FIBC bag styles.
3. Vacuuming
If the fabric is to be coated, the bags are vacuumed to release dust particles, and the bag is then passed through a static eliminator.
4. Lamination
A lamination process then applies a protective coating of polypropylene which will increase the bags' resistance to moisture and sifting. Breathable fabric bags are left uncoated.
5. Printing
At this point, the bags are printed with an FDA-approved printing ink, suitable for food contact. The ink that is used will dry quickly to eliminate smears or running.
6. Cutting
Next, a computer program controls the precision cutting of the woven fabric from the rolls into the required sizes for the bag assembly process.
7. Sewing
Finally, highly-trained employees complete the manufacturing process by sewing the fabric pieces together to create each bulk bag. All bags are sewn in an FDA-approved clean room to maintain sanitation requirements.
8. Final Testing
While we continuously QA our bulk bags through the manufacturing process, at this stage, filler cords are sewn into the seams and the bags will move on through different types of testing to final approval.
Key Takeaways On The FIBC Manufacturing Process
The FIBC manufacturing process involves several key steps, but, depending on the specific requirements, additional processes may be applied.
For instance, coatings like polyethylene or polypropylene can be applied to enhance moisture resistance, and printing machines may add logos or other information onto the fabric's surface.
After the fabric is woven and any optional coatings or printing are applied, it is ready for bag construction and final inspection. This meticulous manufacturing process ensures that FIBCs meet industry standards and can withstand the rigors of transporting and storing bulk materials effectively.

Make Palmetto Industries Your Solution
When choosing an FIBC bulk bag manufacturer, knowing the bulk bag specs, such as the material of construction, size availabilities, and coatings can help you make the best choice for shipping your bulk powders and other granulated products.
From the quality of the raw materials to the method of cutting, sewing, and forming, you will find the craftsmanship of your FIBCs will go a long way to extending their life cycle during service.
A quality FIBC manufacturer will adhere to industry-wide bulk bag specs and are guided by quality assurance programs, such as ISO 21898:2004 for Packaging — flexible intermediate bulk containers (FIBCs) for non-dangerous goods. These certifications consistently improve employee performance and will work to reduce waste while improving efficiency. You will also find a company-wide foundation based on quality control throughout business processes and manufacturing.
When considering an FIBC supplier, choose Palmetto Industries, a leading manufacturer and distributor of various types, styles, and sizes of FIBCs. We provide a cost-effective solution to the transportation of powdered or granulated goods.
From sales to design, production, quality control, and supply chain logistics, our sales team experts can guide you through choosing the right bulk bags for your transportation applications. Contact us at 706-737-7999 and come see what customers around the world have known for over 25 years.