Is Polypropylene Waterproof? What About Polypropylene Fabric?
As a business owner, how do you keep your products secure and dry for storage and transport? Polypropylene bags make a convenient solution, but you might wonder how they keep your product dry. Is polypropylene waterproof, how does it work, and how effective is it for keeping things dry?
When you have a massive stock of dry goods, pharmaceuticals, and even biomass to coordinate, it helps to have the right bulk bag. Understanding how polypropylene works can help you make the best decisions for your products going forward.
Is Polypropylene Waterproof?
Polypropylene is waterproof because its molecules are so close together that water cannot pass between them. Water droplets form bubbles or beads on the polypropylene and remain static on flat surfaces or roll off if gravity takes hold or if somebody wipes it off.
This versatile material is the brainchild of Giulio Natta, an Italian chemist who won a Nobel Prize for his work with high polymers and catalysts. Among Natta's contributions to science, the creation of polypropylene might be one of the most famous. 
Natta and his team used chemical processes to introduce catalysts to propylene gas which resulted in a polymer with the ability to crystallize. The result was a thermoplastic resin known as polypropylene by polymerizing propylene. That's a lot of technical words, but in simple terms, it means that Natta converted a gas (propylene) into a synthetic resin (polypropylene). 
Polypropylene is a thermoplastic polymer, a type of plastic that softens and melts when exposed to heat. Additionally, polypropylene's pliability allows manufacturers to use various processes, like injection molding, to convert the resin into other shapes to create waterproof materials and products.
Natta's creation emerged in the 1950s as the premier choice for household, commercial, and industrial packaging, and its popularity exploded in the following decades. Today, polypropylene is one of the top sellers in the plastics industry. It's used for everything from campaign signs to shopping bags. 
Aside from being waterproof, polypropylene is extremely flexible, lightweight, durable, and resistant to chemical corrosion. These properties make it possible to use the thermoplastic polymer for everything from molded plastics to textiles and even some elasticized items. 
Is Polypropylene Water-Resistant, Too?
Polypropylene is waterproof and water-resistant. While these terms might seem interchangeable, there's a fine line between the two. Waterproof means that something is impervious to water. Water-resistant means that an item can block out most water and liquid, but not everything.
This means waterproof items are also water-resistant, but not the other way around. Polypropylene is both waterproof and water-resistant. However, when it's mixed with other materials, the resulting mixture may not be as waterproof.
For example, many shampoo companies use polypropylene bottles to hold their products. The companies get an affordable, flexible, lightweight material that works within the budget. Imagine what would happen if the firm substituted a water-resistant plastic for the polypropylene resin. How many showers would the new bottles survive before breaking down?
The bottom line is that polypropylene is water-resistant, but it's more than that because it's waterproof. Whenever you need something to keep your items dry and secure, polypropylene is your best bet.
Is Polypropylene Waterproof All the Time?
Polypropylene is always waterproof because the chemical structure resists water. However, it can only repel water from areas it covers. Water can breach polypropylene items through openings, gaps, and slices that alter the material properties.
Think back to the shampoo bottle. A polypropylene shampoo bottle can sit in a shower for months without letting water into the product. However, if you take the cap off the bottle and let it sit, then water can enter the open mouth and dilute your shampoo. 
Damaged polymers may not hold up to water as well. Slicing through your shampoo bottle with a knife separates the tight-woven molecules and compromises their effectiveness. 
Further, properties of polypropylene can degrade over time so that it loses some of its innate waterproof qualities. The resin's integrity breaks down a little every time it's recycled, so it may lose some of its water resistance over time. However, that's why recycled polypropylene often shifts to a new purpose that can restore or enhance the polymer's water resistance.
Why Is Polypropylene Fabric Waterproof?
Polypropylene fabric is waterproof because it retains the properties of the synthetic resin used to create it. While the thermoplastic polymer is often associated with plastic materials, like furniture, automobile parts, and household product bottles, it's also useful as a woven fabric.
As noted previously, polypropylene is also extremely pliable, making it an excellent option for fabrics. While it's not likely to be as soft as traditional textiles, polypropylene fabric does not work well for daily apparel as much as protective outerwear and accessories. 
When you factor in the chemical resistance and durability, it's easy to see how polypropylene fabric can serve multiple purposes. However, not all polypropylene fabrics offer the same level of water protection. While polypropylene remains a waterproof substance, how it's manufactured into fabric can impact the level of water resistance it has.
There are two different types of polypropylene fabric, woven or non-woven, and each type offers varying degrees of water resistance based on unique factors. Of course, you can always check a fabric's waterproof abilities with a quick test at home. Set the item flat and dribble some water on it. If the water beads up, the fabric is water-repellent. 
Woven Polypropylene & Its Waterproof Ability
Woven polypropylene is similar to other textiles because, as the name suggests, it is a series of fibers woven together. Polypropylene threads are waterproof and can create an equally waterproof fabric when woven tightly. When the threads are too loosely woven, they won't be as waterproof since there is room for water molecules to breach the gaps between threads.
To enhance waterproof qualities in polypropylene fabric, many manufacturers take additional steps, like adding a laminated polymer finish to fill the gaps between threads. It's possible to treat an entire woven polypropylene roll to make it as waterproof as possible.
There is a downside to treating woven polypropylene fabric to make it completely waterproof, though—it reduces the breathability. Sealing the gaps between threads prevents water vapor from breaching the layers, but it also reduces the amount of air that can pass through the material. 
Limiting airflow around whatever the polypropylene fabric encases can result in a build-up of heat and moisture. Unfortunately, a lack of airflow plus heat and moisture can lead to mildew.
This drawback is not a negative for all products, and it could be a benefit with some items, like face masks, reusable shopping bags, and storage products. However, it's an important consideration when looking at products made from woven polypropylene fabric. 
Non-Woven Polypropylene & Its Waterproof Ability
Non-woven polypropylene fabric is a horse of a different color. Instead of weaving together plastic threads, manufacturers use various techniques to press the thermoplastic polymers into flexible fabric. For example, some companies create thinner, fluffier pieces that they layer and merge with a heat press.
These systems create a polypropylene material that moves like fabric and has a textile-like texture but with varying degrees of water resistance. Since the heat presses squeeze the polymers together in random arrangements, the resulting fabric blocks water molecules but allows some level of breathability. 
Consequently, non-woven fabrics tend to have superior waterproof qualities compared to woven varieties without the loss of breathability. That said, it is still possible to laminate or treat non-woven polypropylene to enhance the waterproof level if desired.
Which Is Better, Woven or Non-Woven Polypropylene Fabric?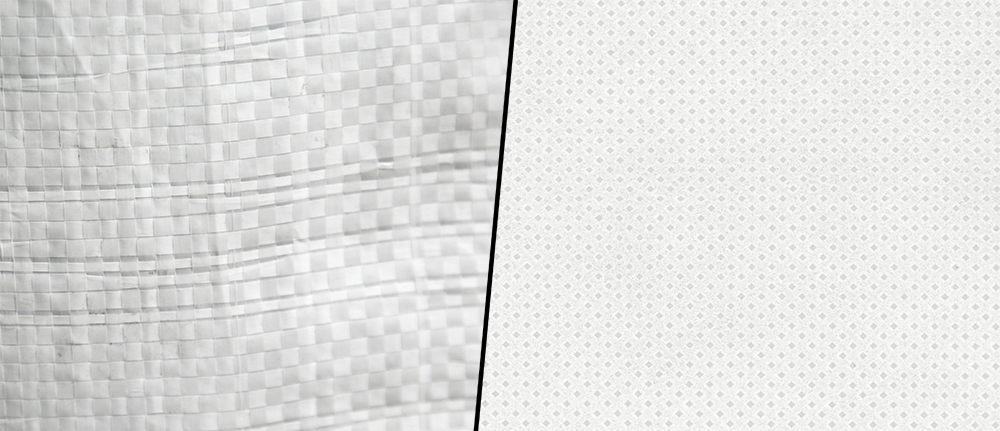 Woven and non-woven polypropylene are equally impressive in terms of waterproof abilities. If you have to choose between the two, it might be better to compare and contrast the options based on your needs.
First, consider durability. The drawback for non-woven polypropylene bags is that they lack the tensile strength of woven fabric. Weaving threads together creates multiple points of reinforcement that don't exist with the heat-pressed polypropylene fabric. 
Second, consider how important breathability is compared with waterproof abilities. If you can manage without perfect water imperviousness, then you have a lot more flexibility than if you must have a completely waterproof product.
Finally, consider how important colors and logos are. Woven polypropylene fabric tends to be white or lighter colored with logos or colors applied over the laminate, meaning they may not last as long. On the other hand, non-woven fabric handles colors and logos easier and you can apply them before any treatments or laminates.
It's easy to tell the difference between the two types as well. Woven polypropylene will have a checkerboard pattern that reveals the threads. Non-woven fabrics have more of a canvas-like texture.
Is Polypropylene Waterproof in Bulk Bags?
Several industries benefit from using polypropylene waterproof bulk bags. What is polypropylene fabric and what makes it a better option for bulk bags than other materials? 
As discussed above, polypropylene fabric can have various degrees of waterproofness, making it a viable choice for every industry. All of our bulk bags are made from waterproof polypropylene to keep your raw materials dry and secure, but that's not all they can do for your company.
Aside from offering varying levels of water resistance, these bulk bags have additional properties to keep your items secure. For example, basic waterproof bulk bags can suffice for some industries by merely securing dry items. However, if you deal with combustible items, you might need enhanced bags that reduce or eliminate static to prevent accidental fires. 
Plus, if you need bulk bags for food, biomass, medical, or even hazardous materials, there's one to meet your needs. Each type of bag can protect the intended items from everything from water to UV degradation, depending on the application. Plus, the bags keep items dry without impeding necessary airflow inside.
Polypropylene bulk bags are cost-effective because you can use them more than once. Not only are these bulk bags reusable, but they are also recyclable. Instead of dropping the bulk bags in the trash bin, recycling polypropylene bags and other items reduces the strain on landfills and the impact on our health. It's eco-friendly and makes the polymers last longer, reducing the need for making more.
Does your company need bulk bags or liners for your business? Palmetto Industries provides everything from biomass bulk bags to those that are certified by the United Nations to transport and store hazardous materials. Contact us to discuss how we can fill your needs. 
Final Thoughts
So, is polypropylene waterproof? Yes, the thermoplastic polymer is impervious to water, making it ideal for a range of everyday products across most industries, from healthcare to the automotive industry.
Even when manufacturers convert polypropylene into woven and non-woven fabrics, it retains waterproof abilities, which can be enhanced with the application of laminates and other coatings. When you're dealing with a variety of items that you need to wrangle, store, and transport, it helps to know you have something that can keep it all dry and secure. The industrial applications are endless, and it's a low cost alternative to other bags and boxes.
Contact us today if you have any questions on this subject or anything else.  We're here to help.