Recycling Polypropylene: How To Recycle PP & The Benefits
Whether we're aware of it or not, we rely on plastic products everyday. From makeup and kitchenware to medical tools and storage, this amazing material has completely changed our world — but as our reliance on these products increase, so must our awareness. While we use "plastic" as a blanket term, there are many different types of plastics…and different protocols for reusing and recycling them correctly. PP, PET, HDPE, LDPE, and PSE are all commonly used plastics, but they are not created equally.
We're going to take a close look at recycling polypropylene and the many uses of the plastic polypropylene (PP), found in everything from bottle caps, straws and disposable diapers, but more importantly we're going to review the strategies for its re-use and recycling so we can better protect our environment.
Is polypropylene (PP) plastic recyclable?
Polypropylene, which is often shortened to "PP," is a thermoplastic polymer which is widely used for many, many applications. It's also used by many industries, including automotive, medical and retail to create many types of products. For example, polypropylene fabric is used to create textiles for upholstery, industrial, and manufacturing. As a result, polypropylene recycling has become a necessary function of the polypropylene lifecycle.
Recyclable PP options: What you can & can't recycle
Because polypropylene material is so adaptable, PP can be recycled into many different types of products, including fibers for clothing, industrial materials, kitchenware and more. However, in order to make sure you recycle PP properly, it's important to understand the limitations of polypropylene recycling.
   Can you recycle polypropylene bags?
Because polypropylene bags are woven using fabric fibers, they are typically made almost entirely of plastic, which means they are both fully recyclable and reusable. But recycling polypropylene bags is a process. PP bags must be collected, sorted, shredded, separated by color, and then compounded in order to be processed effectively. The recycling of polypropylene bags, and PP as a whole, is important to protecting our environment.  Only about 1% of PP is recycled. The rest ends up in landfills where it slowly decomposes and can release hazardous fumes and chemicals.
   What about recycling polypropylene bulk bags?
What about bulk bags? If you're not already familiar, bulk bags are used by many retailers, manufacturers and industrial suppliers and are also known as big bags, totes or "flexible intermediate bulk containers," a.k.a FIBCs. Like regular plastic bags, bulk bags are also recyclable. FIBC recycling companies can be found throughout the United States and often offer a variety of recycling options.
Recycling bulk bags and reusing them should only be done within a "closed loop system," meaning that the FIBC has been cleaned, reconditioned, and more importantly qualified for reuse to handle the product(s) it was originally designed for. This means the manufacturer, customer and FIBC recycler need to work together, which is why it's necessary to locate FIBC-specific recycling in your region or area.
   Recycling woven polypropylene fabric & bags
Most polypropylene bags are created using a woven polypropylene fabric. However, woven polypropylene fabrics are used to create many different types of products — not just plastic bags! These polymer fabrics are often bought in bulk, in the form of a PP woven fabric roll which can then be used to create sacks for sandbags, bulk coffee, rice and other dry goods. So, as you can see woven polypropylene bags come in many forms, which may make it tougher to spot what's recyclable and what's not — but, polypropylene fabric, no matter what it's end use, is recyclable.
   Can I really recycle my takeout containers?
Believe it or not, what was once a carryout container which ferried the rest of those to-die-for dumplings home can have another life! Act II for these types of materials can mean they're recycled into battery cables, cases and broom fibers. They can become brushes, storage racks… even an ice scraper! So, the next time you bring home a container from your favorite restaurant, take a peek and see if it has Plastic #5 stamped on it. If it does, that means it's made of PP and can be used for something else.
The importance & challenges of polypropylene recycling
As mentioned briefly, recycling PP is critical when it comes to minimizing waste and protecting our environment.  Also, sustainability is one of the most talked about aspects of plastic products today. Like many other types of plastic, PP is an incredible material which has changed the way we live our lives, but when abused or disposed of improperly, it can be toxic and harmful to the environment.
Products made of PP which are dumped in landfills can take around 20-30 years to completely decompose, and unfortunately, most residential recycling receptacles and local recycling centers are not equipped to recycle PP, which requires either companies or individual consumers to seek out companies which handle polypropylene recycling. These key sustainability factors are crucial to bolstering pp's environmental benefits.
   Environmental benefits of recycling PP
Aside from minimizing what's chucked into the landfills, recycling PP reduces the amount of plastic being produced from scratch, which also reduces the environmental impact of ground pollution, greenhouse and landfill gasses.
Recycling PP also helps conserve natural resources (e.g. timber, water and minerals) and conserves energy. It's estimated that 8% of all of the oil used in the world (around 400 million tons) is used in plastic manufacturing.
In fact, according to Waste Management, recycling one ton of plastic saves:
5,774 kilowatt-hours of energy
16.3 barrels (685 gallons) of oil
30 cubic yards of landfill space
The polypropylene recycle process: How to recycle polypropylene plastic
Currently, plastics including PP, PS and LDPE can't be recycled by curbside programs. Usually, they end up getting stuck in sorting equipment and can cause mechanical issues. The recycling process of polypropylene involves several phases, which include:
Collection
Sorting and cleaning
Shredding
Separation
Compounding
Phase 1. Collection
In this first stage, PP is collected from polypropylene collection receptacles and transported to the recycling facility. Collecting the plastic to be recycled depends on how the individual business or individuals public dispose of their plastic waste. When it comes to bulk bags specifically, the Palamatic Process Bulk Bag Compactor is a great option for manufacturers who go through a large amount of FIBCs. The CBB125 Bulk Bag Compactor can reduce the volume of FIBC waste while containing residual powder for a healthy and dust free environment and allow for a clean and easy method of collecting all of your bags.
Phase 2. Sorting and cleaning
Then the polypropylene recycling process continues by separating PP from mixtures with other plastics and contaminants. Often, density is taken into consideration as well as what the original configuration of the polymer was meant for. The chemical recycling of polypropylene removes contaminants during this part of the process. Many bulk bags and containers originally held fertilizers or chemicals, and without cleansing, manufacturers are not able to make new products.
Phase 3. Shredding
Once the plastics have been cleaned and prepped, depending on the original intent and configuration, some are sent to the shredder.
Phase 4. Separation
Some plastics will be sorted based on attributes such as color, size, shape, melting point or light absorption. The machines also sort the plastic into different areas depending upon certain properties as well as what it will be used to produce next.
Phase 5. Compounding
The final phase is compounding. This is the mechanical process of recycling polypropylene. Here, the plastics are recombined using a machine called an extruder, which melts down particles at a high temp, creating pellets of the plastic. Then, the pellets or granules are ready to be used by manufacturers to make brand new products!
Mechanical recycling of polypropylene
Plastic packaging waste and how to best handle it has turned into a huge topic of discussion as of late. There is mounting concern in regard to finding sustainable systems and solutions for plastics. The most effective solution for this would be to turn plastic waste back into new packaging materials. The most commonly used method of achieving this is through mechanical recycling. The process includes collection, sorting, washing, and grinding of the materials into flakes is the last step. There are, however, a number of limitations to mechanical recycling. The main one being the inability to produce a product that is comparable to a virgin pp.
Chemical recycling of polypropylene
Chemical recycling offers many advantages as a long term solution for recycling plastic waste. Through the use of pyrolysis technology, plastic waste is turned into a secondary raw material known as pyrolysis oil. Virgin-quality polymers can then be made from this oil. There has been much of progress made in developing pyrolysis for plastic waste and stands as one of the best options for maximum recovery.
What is the PP recycling code & symbol?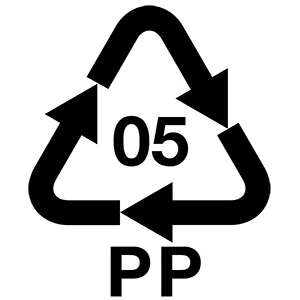 Every different type of plastic is assigned its own number. The recycling symbol for polypropylene is #5, so when it comes to properly recycling polypropylene 5 make sure you sort your plastics accordingly! Look for the triangle with the three arrows and the number inside.
Key takeaways on polypropylene plastic recycling
Polypropylene plastic is an incredibly versatile material that is durable, strong and eco-friendly. However, when not disposed of properly, it can be a pollutant. Fortunately, most products made from polypropylene plastic are recyclable…it just takes a bit of work!
FAQs on how to recycle PP plastic
   Why is polypropylene hard to recycle?
Because curbside recycling programs do not support polypropylene processing, it's up to businesses and individuals to seek out polypropylene recycling companies on their own, and unfortunately, many don't want to take the time and effort.
   Where can you recycle polypropylene?
There are websites that can help you find local PP recyclers near you such as Earth911. You can also mail your materials to an organization called Preserve which has a polypropylene program appropriately named Gimme5.
   What can polypropylene be recycled into?
There are so many reasons as to why it's worth putting the effort into recycling PP: it's better for our environment, our health, and it helps create many new and much-needed products that we rely on everyday. Polypropylene can be repurposed to create:
Dishware
Gardening materials
Clothing and industrial fibers
Containers
Coffee bags
Speed bumps
Storage racks and bins
Recycling PP also creates more jobs and supports domestic manufacturers and local businesses .
   Can you recycle polypropylene at home?
While you can't recycle polypropylene at home, you can get the process started! Sort your plastics accordingly and make sure to rinse out all containers and bags as much as possible. Additionally, make sure to remove plastic tops from the plastic containers.
   Is recycled polypropylene food safe?
In 2013, the FDA approved recycled polypropylene as food-safe. PP has a high melting point which means it can withstand high temps (such as microwaving) and doesn't react to liquids, acids or bases so it's safe to store a range of food and liquid types.