Handling and Storage of Hazardous Materials (Rules & Regulations)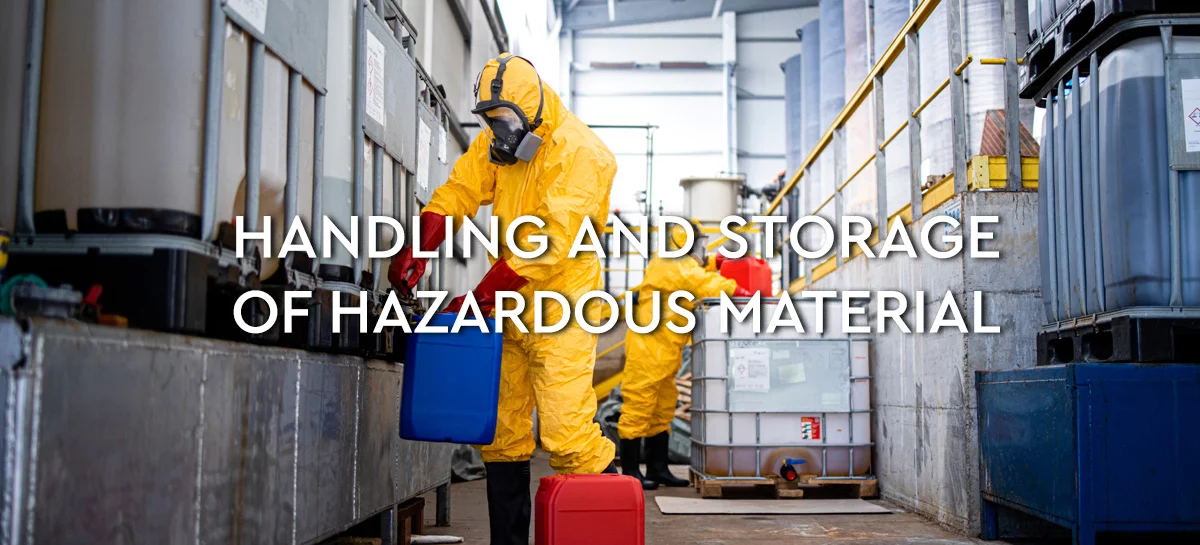 Are you responsible for an industrial facility or warehouse that deals with the handling or storage of hazardous material?
If so, you should be 100% invested in the storage of hazardous materials regulations.
But, do you know exactly how to comply with chemical storage?
We'll show you exactly how to do this, along with a couple of solutions you might not have thought of.
Guide to handling and storage of hazardous materials in a warehouse and other industrial settings
Following hazardous material storage requirements is essential to ensure the safe and secure handling of potentially dangerous substances.
Whether you're working in an industrial setting, handling chemicals in a laboratory, or are responsible for the storage of hazardous materials in a warehouse, it's crucial to understand the regulations and guidelines surrounding the storage of hazardous materials.
Unsafe storage hazards: what can go wrong?
If hazardous materials aren't stored properly in your warehouse, there can be several serious consequences:
Health hazards
Fire and explosions
Contamination
Violation of regulations
Barriers to emergency responders
Let's take a look at these in turn…
1. Health hazards
If hazardous materials aren't stored correctly, they can pose a significant risk to human health.
This can include exposure to toxic chemicals, gases, and fumes that can cause serious respiratory problems, skin irritations, and even death. (yep, it's that serious!)
2. Fire and explosion risks
Hazardous materials can be highly flammable or explosive if not stored in accordance with regulations.
Such improper storage can lead to fire and explosions, which can cause serious injury, death, and property damage.
3. Environmental contamination
Improper storage of hazardous materials can lead to leaks and spills, contaminating soil, water, and air. This can have long-lasting effects on the environment and wildlife and can harm human health.
4. Violation of regulations
If hazardous materials aren't stored according to regulations set by governing bodies, companies can face fines, legal penalties, and other consequences.
The relevant governing bodies you need to be aware of are:
We'll expand on each of the above shortly.
5. Inability to respond to emergencies
If hazardous materials are stored incorrectly, it can make it more difficult for emergency responders to respond to accidents, spills, and other incidents.
It goes without saying that this can result in more serious consequences and increase the risk to human health and the environment.
To avoid all of these extra hazards that your business could do without, consider our UN bags. They're an excellent solution to avoid extra unnecessary risks and hazards.

Storage of hazardous materials regulations
Now it's time to expand on the rules for the storage of hazardous materials, which can be found in the documentation supplied by the below entities.
Each of these governing bodies plays an important role in ensuring the safe storage of hazardous materials and protecting both workers and the environment:
Occupational Safety and Health Administration (OSHA)
The hazardous materials storage regulations OSHA is responsible for creating and enforcing are in place to protect workers and their work environments, including the storage of hazardous materials.
OSHA sets standards for the labeling of hazardous chemicals, as well as specific regulations for the storage, handling and hazardous material disposal.
Environmental Protection Agency (EPA)
The EPA is responsible for ensuring the protection of the environment, including hazmat storage requirements.
More specifically, its regulations focus on the safe storage and transportation of hazardous waste, including the management and disposal of hazardous materials.
The EPA regulations tie in closely with that of the DOT…
Department of Transportation (DOT)
The DOT is responsible for regulation over transporting hazardous materials and sets regulations for the safe storage of these materials during transportation.
This includes the following with regard to hazardous materials:
Labeling
Packaging
Storage
National Fire Protection Association (NFPA)
The NFPA sets guidelines and codes for fire safety, including those around the storage of hazardous materials.
10 best practices for storing hazardous materials safely
While it's useful to be knowledgeable of the risk, rules and regulations, what steps can you take to ensure you're really storing hazmat materials safely?
Check out these precaution tips to ensure corrosive liquids and solids, flammable and combustible liquids, and other hazardous materials are adequately secured:
1. Use proper containers
Store hazardous materials in containers that are specifically designed for the type of material being stored.
Such containers should be in good condition and free from cracks, leaks or other damage.
One such solution is our UN bags, which pass all UN regulations and are an ideal storage solution, while also being usable for the transportation and during the recycling of your hazardous materials.

2. Label containers clearly
All containers of hazardous materials should be clearly labeled with:
The chemical name
Its hazard classification
Any appropriate warnings
For example, if you're using a storage cabinet, ensure the label is clearly visible on the outside of the cabinet, as well as the individual items within the cabinet being labeled, too.
Furthermore, consider implementing a safety data sheet policy to record information on the materials stored.
3. Store compatible materials together
Hazardous materials should be stored together based on compatibility, meaning materials that are unlikely to react with each other.
Consider this point along with the labeling and the containers you use for the above two points. Combined, these three should form an efficient storage system.
4. Store in a designated area
Hazardous materials should be stored in a designated area that is away from sources of heat, sparks, and flames.
The area should also be easily accessible to authorized personnel.
5. Use a secure location
Hazardous materials should be stored in a secure location that is locked or otherwise inaccessible to unauthorized personnel.
6. Store in a cool, dry place
Hazardous materials must be stored in a cool, dry place, away from heat and moisture to prevent chemical reactions and potentially hazardous situations.
7. Store away from food and drink
Hazardous materials should be stored in a separate area away from food and drink to prevent contamination.
8. Store heavy items at the bottom
When stacking containers, store the heaviest items at the bottom to prevent them from falling and causing damage to the containers.
9. Store in an upright position
Store containers of hazardous materials in an upright position to prevent leakage or spills.
10. Train employees
All employees who work with hazardous materials should go through proper training on storage procedures, including emergency response and spill control.
This training should involve both your internal controls but also guidance from the above-mentioned regulatory bodies.
How Palmetto can help with storing hazardous chemicals and other materials
When it comes to hazardous materials, storage is a serious matter.
Palmetto Industries offers UN-approved bags for safe and secure containment.
Our bags meet the highest standards set by the United Nations and are designed to withstand tough conditions.

Key takeaways on following hazardous materials storage regulations
When handling hazardous materials, you should always be vigilant in ensuring the safety of both yourself and others. This includes adhering to regulations, properly labeling containers, and having a plan for emergency response.
It is crucial to have proper storage facilities, training for employees, and ongoing safety inspections to minimize the risks associated with hazardous materials.
By following these 7 things to know about storing hazardous materials, you can help ensure a safe and healthy workplace.
FAQs
Which guideline is vital when handling hazardous waste?
One of the most vital guidelines when handling hazardous waste is to ensure the proper use of secondary containers when there is a danger of puncturing the primary container. Secondary containers are used to prevent spillage and minimize the risk of exposure in case of a primary container failure.
When handling hazardous waste, it is important to choose secondary containers that are sturdy, secure, and compatible with the contents of the primary container.
They should also be clearly labeled and kept away from heat sources, flames, and sources of ignition.
What are the LIES procedures for storing flammable liquids?
The LIES procedures for storing flammable liquids are:
L – Label: Clearly label the containers and storage areas with appropriate warnings and information about the contents.
I – Inventory: Regularly take inventory of the flammable liquids to ensure that only the necessary amount is stored and that any spills or leaks are quickly identified.
E – Environment: Store flammable liquids in a cool, well-ventilated area, away from heat sources and sparks.
S – Separation: Keep flammable liquids separate from other chemicals and combustible materials to minimize the risk of fire or explosion.